Mist eliminators (droplet separators)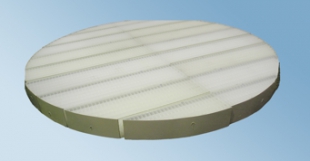 Mist eliminators are used in columns, phase separators, K.O. drums etc. in order to remove droplets entrained by the liquid before the leave the vessel. In many cases they are installed at the top of the vessel. ENVIMAC offers various types of mist and dust separators for columns, such as vane type separators, wire mesh separators and radial spin separators.
Lear more about our broad range of mist and dust eliminators in the Mist Eliminator section of our corporate website.